---
A VERY EARLY DRAFT CALENDAR and ROSTER for 2022-2023 has been added to the PROGRAM and ROSTER page. Please provide any corrections, additions and suggestions so that it can be finalised in August/September
---
IMPORTANT NOTICES FOR ALL MEMBERS
The ANNUAL GENERAL MEETING of JERVIS BAY SAILING CLUB Inc
was held on Saturday 2/7/2022 with new committee appointed:
Geoff Carne (Commodore), Richard Pryor (Vice Commodore), Steven Lymbery (Secretary /Treasurer), General Committee Members: Merv Lotze, David Ginty, John Anderson (Web), Mike Wootten, Bill Paterson.
The EXTRA ORDINARY GENERAL MEETING of JERVIS BAY SAILING CLUB Inc
was held on Date: Saturday 2/7/2022 and the new Constitution as circulated was adopted with no amendments
---
Results for the JBSC Club races
See RESULTS
See the Great Photos Taken by Peter Eslick on 12 March 2022 in the Gallery
The second race in the Frostbite Series of races scheduled for Saturday 2 July was cancelled, as Bluey Blew a Whopping Southerly Buster with heavy rain showers.
Please note that the club has adopted a revised race format schedule for next season with 7 Championship Race Days - race about 90 minutes, 14 Pointscore Races Days, race about 90 minutes and 7 Sprints Day Race Days (about 3-6 back to back races about 20 minutes). 75% of races (rounded down) will count for the end-of-season series results. See the program for details about the courses and the calendar of events. The last two Saturdays of the season will be nominated "Catch-up Days" to ensure sufficient number of races for each type are completed.
---
Note: Jervis Bay Sailing Club is now an accredited Discover Sailing Centre after a successful review by Craig Ferris of Australia Sailing on 13 December 2021. This provides the foundation for the learn to sail program being run by the club beginning in January (please contact Geoff Carne for details) - see Contacts
---
Note: A Draft Program/Calendar for 2021/ 2022 is now shown on the website. The Handicap Starts for this event are also on the website.
Please click DRAFT Program for a copy of the DRAFT program in PDF. Jump to Program Page
Please advise the Committee for any changes you know of.
SAILPASS link and instructions - see below with Membership details
---
Jervis Bay Sailing Club - COVID UPDATE LATEST
---
NSW COVID-19 Restrictions - UPDATE
See details here
---
MEMBERSHIP:
SAILPASS - Non-members can apply for temporary membership with JBSC to get a Sail Pass, usually for a day.
SailPass is a temporary membership class that enables crew to join JBSC for a day. Sail Pass provides applicants with an Australian Sailing Number and personal accident insurance cover and meets the requirements of Rule 46 of the Racing Rules of Sailing 2021 - 2024 for skippers and crew. It also covers non-sailing crew on the start boat and those who assist the club as Covid-19 marshalls and helpers in other ways. All participants at JBSC, on every day, must have current membership or a Sail Pass, and a current Australian Sailing Number.
SAIL PASS Instructions and Information
Note:Memberships for the 2022-2023 season are due from July 2022:
New Member Application Form for 2022-2023 OR
Renew Your Membership for 2022-2023
Note:
A new membership category of 'Associate' has been added for $55 per year. Associate Members (and Crew only Members) shall be entitled to all the privileges of the Club other than the right to hold office, vote at the annual general meeting, or vote at committee meetings. Those that take this option need to fill out the membership form and join as an "Associate" (circle on the form). Associate Members / Crew members do not have the right to enter a yacht in events conducted by the Club. However, a yacht entered by a Full Member, may be skippered by a registered Crew Member, provided the Full Member is on board. Crew Members will be registered as Australian Sailing card holders (SIN) by the club, to satisfy the 46 PERSON IN CHARGE rule, and would be covered by personal accident insurance provided by Australian Sailing. Casual crew are encouraged to join the club as Full or Crew Members, after they have sailed three races as guest crew in a season. Crew who are financial members of other clubs, and have a current SIN, are not necessarily required to join the club, but it is encouraged, if they crew regularly. Associate members do not sail but enjoy the social benefits of the Club and its activities.
Please Note:
Membership forms need to be completed and signed before membership registration can be uploaded to Sailing Australia (formally Yachting Australia) web site. Payment is not sufficient. If forms are not completed and paid by 30th September, personal risk insurance provisions will lapse. Sailing Australia have advised that 1 December is deadline for membership renewals to be finalised (so please submit your forms)
Get involved by joining the committee
Committee Nomination Form
---
See
DRAFT Program for 2021/2022
For
News, Upcoming Events and Regattas
, and
For Sale Notices
see
NEWS
Rules and Regulations
Racing Rules of Sailing 2021-2024 with Appeals
Help with the Rules of Sailing
Play the Rules Gane by Uli and Wolfi Finckh
-----------------------
Notice of Race and Sailing Instructions for Club Races
JBSC Notice of Race 2021-2024 - Final
JBSC Sailing Instructions 2021-2024 - Final
---
Jervis Bay Sailing Club conducts races at Callala Bay on Saturday afternoons throughout the sailing season, from the October long weekend to the end of May, inclusive. Briefings are at 1:00pm and races start at 1:30pm.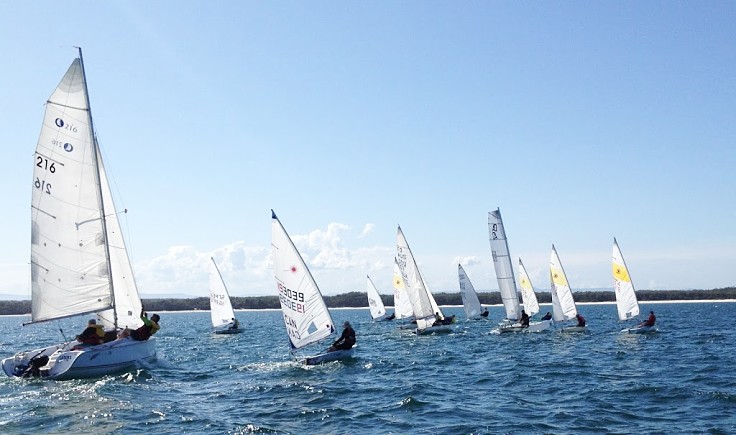 Additional Frostbite Series races are held on the first Saturday of every month during winter off season, briefings are at 1:00pm and races start at 1:30pm. The club also hosts Special Events and Championships - see Special Events for details.
All off-the-beach dinghies, catamarans and smaller Trailer Sailers are welcome. Visitors are most welcome. Just come to the rigging area and introduce yourself! To join the club and start racing please complete: Contacts:
click link to email
=> Geoff Carne, Commodore
Telephone: 0414 267 299
=> Steven Lymbery, Secretary / Treasurer
Telephone: 0400 104 451
We are located near the Callala Bay Boat Ramp. The street address is 42 Boorawine St, Callala Bay, NSW, which is approximately 3 hours from Sydney and Canberra.